Chateau Bruyant Party
Bass, Dubstep, Drum, House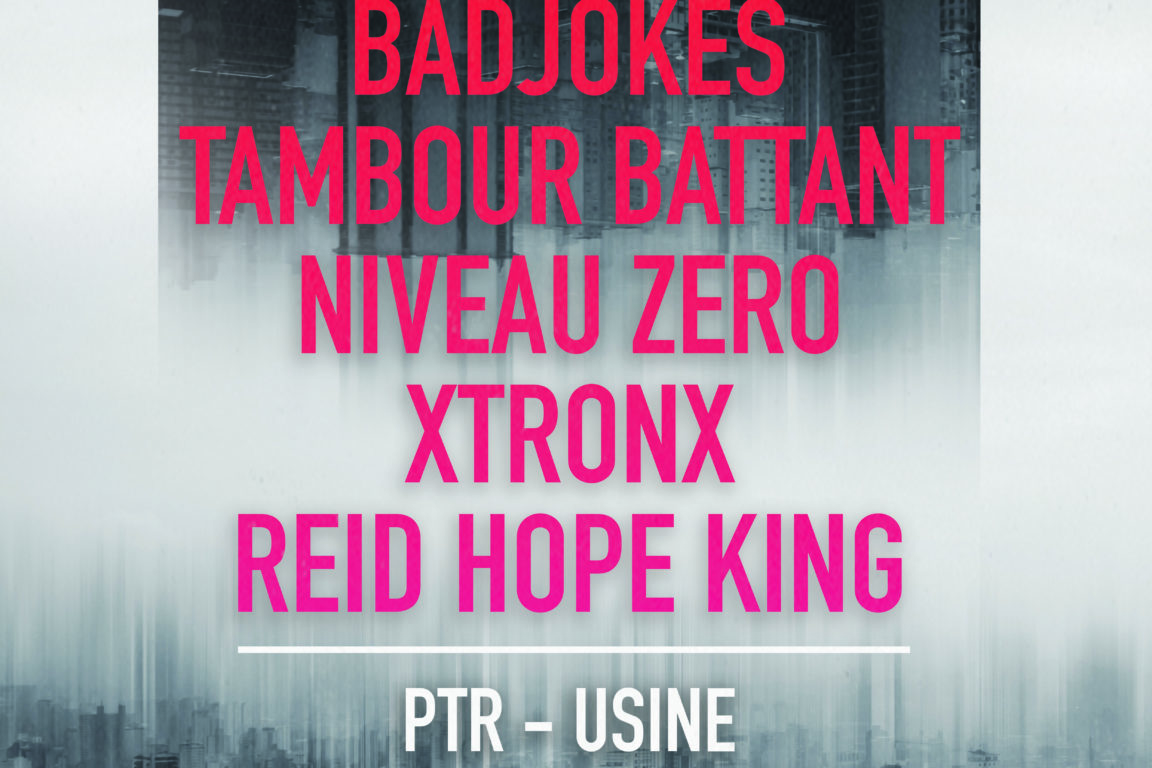 Ouverture des portes
00:00
Après le succès de l'édition précédente, CHATEAU BRUYANT PARTY est de retour à Genève avec une sérieuse envie d'en découdre.
Une Label Night réunissant les artistes phare du label CHATEAU BRUYANT Records, fer de lance d'une Bass Music hexagonale. De la Bass House au Dubstep, en passant par la Drum'n'Bass la plus puissante avec un seul critère : la qualité.
Une édition genevoise furieuse qui réunira Badjokes, Tambour Battant, Niveau Zero, XtronX et Reid Hope King
Get ready to rumble ?!
BADJOKES
FB ► https://www.facebook.com/badjokesdj/
SC ► https://soundcloud.com/badjokes
Membre du collectif Marseillais Future Skankerz, BADJOKES est la figure montante de la Bass Music hexagonale. Enchainant les sorties et les collaborations (Habstrakt, TBBT, … ) il est très vite invité a jouer sur les ondes UK (Rinse FM, Get Darker) et trouve le support des piliers du mouvement comme AC Slater, Roska, ou encore Marcus Nasty auprès de qui il opère désormais au sein du collectif BASS CITY. Quelque part entre le « Future Break » et « Bass house, ces sets sont savamment taillé pour le dancefoor.
TAMBOUR BATTANT
FB ► https://www.facebook.com/tambourbattant/
SC ►https://soundcloud.com/tambour-battant
Le duo Tambour Battant fait partie de cette génération de beatmakers qui font tomber les cloisons entre les styles. Depuis plus de 10 ans, les 2 producteurs n'ont de cesse de scruter l'horizon musical créant ainsi leur propre style : une mélange explosif des musiques électroniques au sens large. Leurs performances scéniques rendent Tambour Battant unique, proposant une formation mêlant batteries électroniques, contrôleurs, pads, keyboards… En 2017, Ben et Cobaa frappe fort avec l'album « Dance All Night », nous offrant une nouvelle touche « électropicale »…
NIVEAU ZERO
FB ► https://www.facebook.com/niveauzero/
SC ► https://soundcloud.com/niveau-zero
Veritable pionnier de la scene bass-music française, Co-fondateur des labels Raw Audio Distortion et Château Bruyant rec, Frederic Garcia alias Niveau Zero est un artiste trempe de multiples influences. Apres 2 albums et de nombreux Ep sorties sur de prestigieux labels ( Buygore, Never say die, Uplink Audio, Rottun, Ad Noiseam, DOOM Music, H.E.N.C.H, Boka rec). Niveau Zero ne cesse de tourner. De la Russie aux USA , du Liban et Mexique et se voit alors ouvrir les portes des clubs les plus illustres tel le Berghain ou Razzmatazz et enflamme les scenes des festivals renommes comme le Fusion, I LOVE TECHNO, Astropolis, les Transmusicales de Rennes, Le Printemps de Bourges, la Technoparade et Dream Nation. Playlisté sur BBC1 et Rinse FM, soutenu par des artistes majeurs de la scene (Figure, Dirtyphonics, Excision, Downlink, Skism, Manu le Malin …), il continue sur sa lancée et anime sa propre émission de radio sur RINSE FRANCE. Son dernier Ep « 00:00 » ( Feat. Krimer, Xtronx, The Unik )sortie sur Uplink Audio (label de DOWNLINK), ses dernières sorties sur Buygore et sa dernière collaboration avec ZBLU sur Raw Audio Distortion sont une veritable demonstration de puissance.
XTRONX
FB ►https://www.facebook.com/xtronxmix/
SC ►https://soundcloud.com/xtronx
Activiste des nuits lilloises, XtronX est un projet artistique au caractère bien trempe. Considéré comme une des figures montantes de la Drum and Bass française, il intègre Chateau Bruyant records en 2016 . Drum and Bass / Neurofunk / Metal, ses productions sont empreintes de sonorités sombres dignes des films de genres. Sa touche metal associée a des parties Midtempo, donne a ses morceaux une lourdeur et une puissance rare.
Son style unique et ses DJ set energiques et varies lui ont permis de partager la scene avec des artistes internationaux tels que Aphrodite, Audio, Mefjus, Neonlight, Agressor Bunx, Signs, Document One …
REID HOPE KING
FB ►https://www.facebook.com/reidhopeking/
SC ►https://soundcloud.com/reidhopeking
Mélange calculé e hip-hop, grime et de bass music dans sa plus pure tradition, Reid Hope King tisse les fonctions d'un nouveau style à mi-chemin entre le trap et le moombahton, syncopés de sonorités vintage. Les breaks sont shuntés et le sub puissant jusqu'à l'étouffement physique et organique. Jamais en panne d'inspiration lorsqu'il nage dans son univers de la bass music, il propose des mixes en constante évolution aussi bruts que méticuleux.