Mass Hysteria
Métal
FR
CardiaC
Hardcore / Metal
CH
Colossus Fall
Sludge Metal Core
CH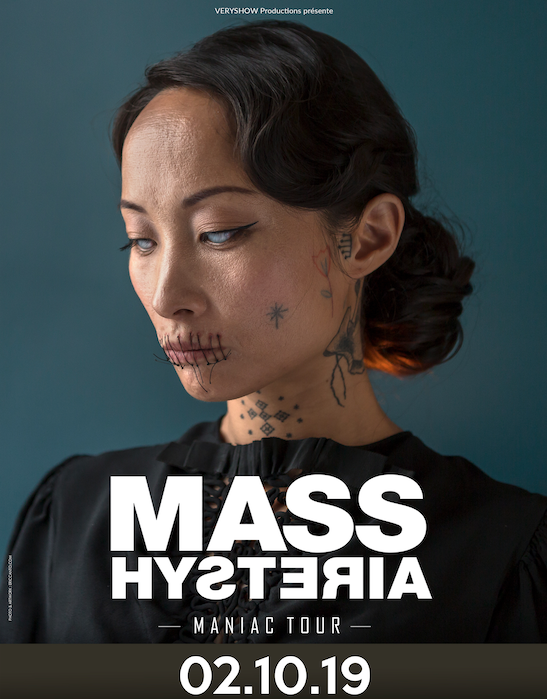 Ouverture des portes
19:00
Entrée prélocations:
28.-
M A S S
H Y S T E R I A
M A N I A C
T O U R
Mass Hysteria
+ CardiaC
+ COLOSSUS FALL
Avec 25 ans de carrière au compteur, des albums cultes comme « Contraddiction », « L'Armée des Ombres » ou « Matière Noire », deux certifications or et des dizaines de concerts gravés dans les mémoires, Mass Hysteria est sans conteste le patron du #Metal en France.
« Maniac » (26 oct. 2018), le nouvel album du groupe vient enfoncer le clou de manière magistrale : encore une fois produit par Fred Duquesne (No One Is Innocent) puis maste-risé par Ted Jensen (Slipknot, Pantera), cet album est le plus extrême de la carrière du groupe. Tout au long des 10 titres, si le chant si caractéristique de Mouss est là pour adoucir le propos, le 9ème album de Mass Hysteria risque d'en laisser plus d'un K.O.
Instagram : www.instagram.com/masshysteria_official
Youtube : www.youtube.com/watch?v=i0w59hMNIBA
Album : open.spotify.com/album/2kS7IMUJmAzcpJAVycVIoZ
CardiaC joue depuis 2000 dans un style mélangeant hardcore et metal, avec un groove latino amené par les paroles en espagnol. Le quintet suisse a construit sa personnalité particulière sur scène et sa force l'a déjà emmené au delà des frontières. 6 albums, 2 EP's, de nombreuses compilations, invités plusieurs fois en "live" à la TV, nombreux vidéo-clips officiels, des tournées dans ces pays et continents à plusieurs reprises: USA, Cuba, Russie, Europe et a partagé la scène avec des groupes de renommée internationale comme Limp Bizkit, Stray from the Path, Sepultura, Soilwork, Caliban, Crucified Barbara, Sick of it All, Dover, Dagoba, Sôber, Mass Hysteria, Skizoo, Kruger, Sybreed, Jello Biafra and The G.S.M, While she sleeps, Madball, Exodus et plein d'autres!
Website : http://www.cardiac.ch
Youtube : http://www.youtube.com/tvcardiac
Instagram : http://instagram.com/cardiacofficialpage
Colossus Fall s'est formé en 2009 à Genève en Suisse. Après 10 ans d'existence, le groupe à produit trois disques et joué plus de cent concerts à travers l'Europe, dont deux tournées en Irlande et en République Tchèque. Le groupe évolue dans une veine hardcore metal aux incursions sludge, couplée avec des sonorités psychédéliques et des rythmiques plus agressives.
Mais c'est avant tout sur scène que l'ampleur du groupe se mesure. L'expérience acquise par le groupe lui a permis de forger des prestations scéniques puissantes et entraînantes, plongeant le public au centre d'un maelstrom sonore maitrisé et furieux à souhait.
Website : www.colossusfall.com
Youtube : www.youtube.com/colossusfall
Instagram : www.instagram.com/colossusfall
Préloc : 28.- || Sur place : 32.- || Membres PTR 18.-
Billets :
Fnac : http://bit.ly/2TVIQU5
Petzi : https://goo.gl/oBKPvz
Starticket : http://bit.ly/2FwaRfX