My Sleeping Karma
Stoner Rock Psyché
DE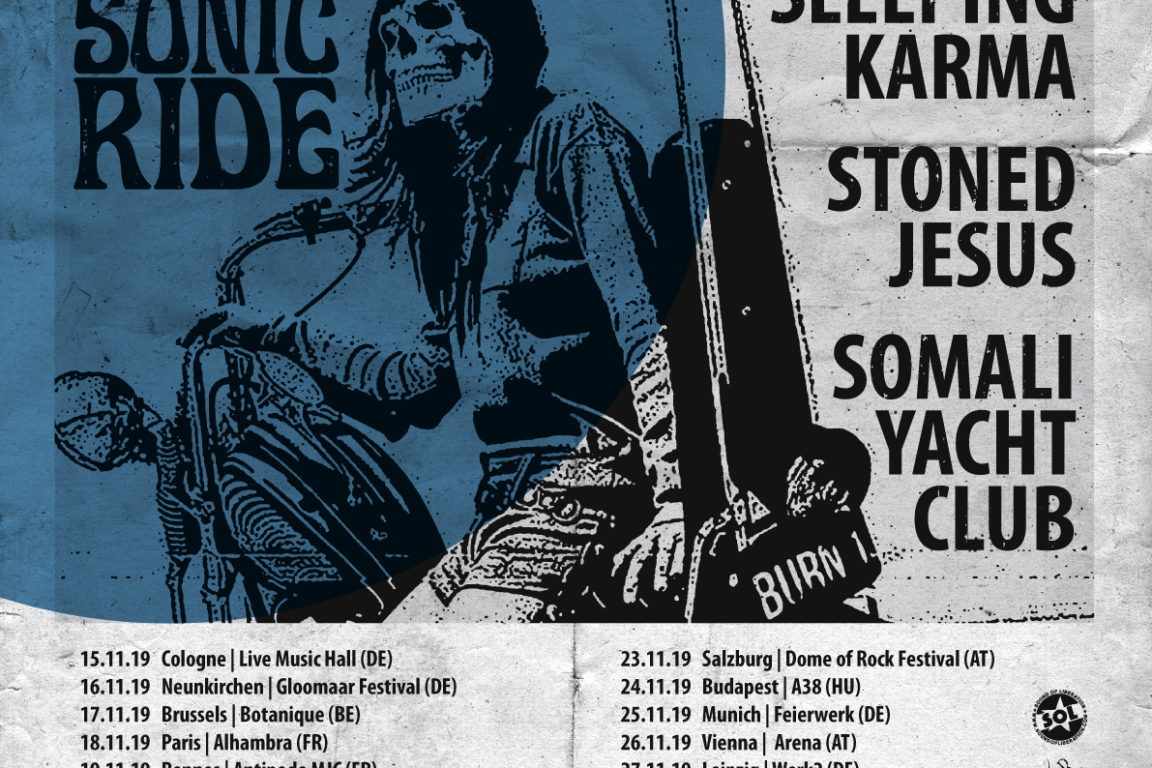 Ouverture des portes
20:00
Entrée prélocations:
28.-
SOL SONIC RIDE VOL I
* MY SLEEPING KARMA – OFFICIAL (DE)
* Stoned Jesus (UA)
* Somali Yacht Club (UA)
MY SLEEPING KARMA
D'abord side-project Stoner Rock du groupe The Great Escape, My Sleeping Karma débute par une série de jams qui explorent le côté psychédélique du style. Il est composé de Seppi (Guitare), Steffen (Batterie), Matte (Basse) et Norman (Claviers / Guitare).
Après le split de The Great Escape, en mars 2006, le quartet entre en studio pour y enregistrer ses premiers morceaux. L'album éponyme qui en découle sort la même année sur Elektrohasch (Colour Haze, Causa Sui).
My Sleeping Karma enchaîne alors sur deuxième album, Satya en 2008, qui se veut un hommage au Tibet libre et rempli de références bouddhistes; De nouveau deux ans plus tard, les allemands sortent Soma chez Spinning Goblin Productions, une division du label Napalm Records. Le groupe franchi encore une palier en terme de reconnaissance et se fait de plus en plus présent sur scène et dans les festival européens. En 2015, Moshka est le cinquième album du combo à sortir chez Napalm Records.
STONED JESUS
Formé à Kiev en 2009, Stoned Jesus a su, grâce à sa musique Stoner/Doom aux relents psychédéliques, grimper les échelons rapidement et ainsi se forger un statut de référence du genre en Europe de l'Est, tout en gardant une qualité composition et un style en constante évolution. Après des débuts très doom aux inspirations sabbathiennes (album « First Communion »), le groupe enrichi son univers musical de sonorités épiques et progressives avec l'EP « Stormy Monday » puis également le sublime album « Seven Thunders Roar ». Groupe très rare dans nos contrées, Stoned Jesus nous fera l'immense honneur de nous faire planer dans les hautes sphère en live.
SOMALI YACHT CLUB
Somali Yacht Club. Sous cet étrange patronyme se cache un trio ukrainien barbotant dans un stoner empreint d'essence psychée, de carburation pop pour l'aspect mélodique et de suspension désertique pour leur propension à étirer les compositions. Et donc de les classer dans le même intercalaire que Stoned Jesus tant la gémellité fait loi entre les deux formations.
Billets :
Prélocations : 28.- / Portes : 32.- / Membres PTR 18.-
Petzi : https://bit.ly/2YMjf2H
Fnac : https://bit.ly/2XaCAuj
Starticket : https://bit.ly/2X4HatO