Tropicalidad #2
AfroTrapBaile
Mighty
House of ButchXtra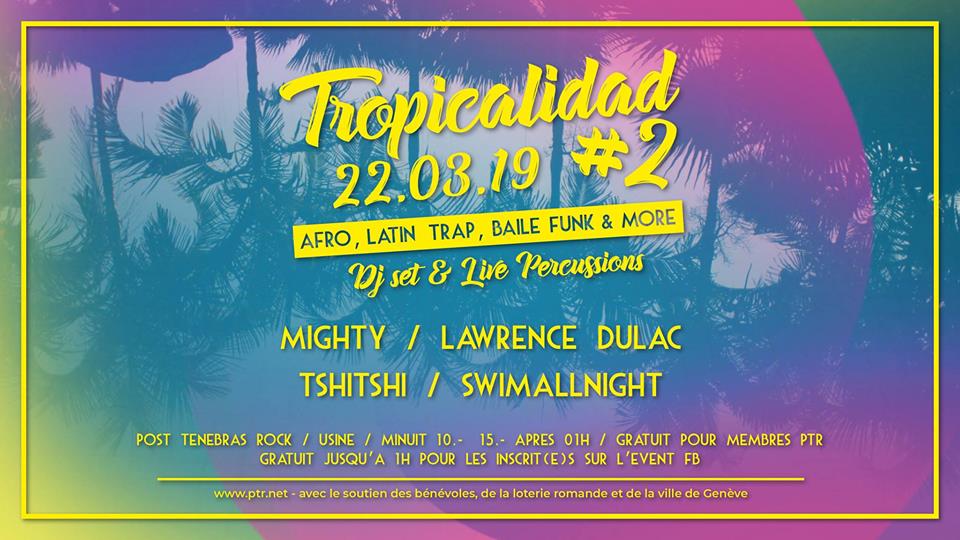 GRATUIT jusqu'à 1h si tu participes à l'event FB
Impulse.Today & Post Tenebras Rock – L'Usine présentent :
-TROPICALIDAD #2.0-
AFRO-LATIN TRAP-BAILE FUNK & MORE
Une déco Végétale!
Une soirée tropicale!!
une ambiance bestiale!!!
– Music by –
Mighty (House of ButchXtra)
Dulac (Royal Frass Club)
Tshitshi (Snd)
Swim (Snd)
-Déco Végétale by Impulse.Today–
Quand ? : Vendredi 22 Mars 2019!
Où : PTR – L'Usine
Horaire : 00h à 05h
Prix : 10.- avant 01h / 15.- après 01h
GRATUIT avant 1h si tu participes à l'event FB
Mighty (House of ButchXtra)
Mighty est unx DJ afrofuturiste et membre fondateur de la House of ButchXtra.
A travers la musique, il/elle voyage dans le temps et partage des récits passés sous silence au grand jour et faisant du dancefloor un espace d'expression et de rassemblement pour une multiplicité de corps et d'identités.
Soundcloud:https://soundcloud.com/mightyshantay
Dulac (Royal Frass Club)
Lawrence Dulac est un dj, producteur et percussionniste genevois.
Il débute sa carrière musicale en 2005, en fondant avec d'autres le désormais incontournable sound system dancehall Ma Gash International.
En 2011, il prend son indépendance et commence sa carrière solo en officiant aux cotés d'artistes comme Alkaline, Gyptian, Konshens, Popcaan, Busy Signal,…. et dans des villes telles Sydney, New York & Bali.
AfroBeat, Dancehall, Latin Trap, Baile Funk, Disco ou Funky House. Lawrence Dulac sait trouver les perles rares qui vous feront vibrer en alliant technicité et LIVE Percussion. Son sens du rythme et ses hautes connaissances musicales font de ses sets, a chaque fois, une expérience unique.
Ig: https://www.instagram.com/dulacbaby/ –> @dulacbaby
Sc : https://soundcloud.com/lawrencedulac
Fb: https://www.facebook.com/lawrence.dulaac
Booking/info: royalfrassclub@gmail.com
Tshitshi (SND)
Fabien Tshitshi aka Tshitshi est un DJ/compositeur membre du collectif SND ainsi que DJ officiel d'Arma Jackson, jeune artiste lausannois signé par Boomaye. Avec sa sélection de musiques diversifiées et homogènes, il réussira à éveiller votre groove en pleine soirée. Il vous fera esquisser vos déhanchés et déversera un flot de soul dans vos artères. Ce DJ lausannois s'emploie à marier hip-hop, cuivres jazzy, rythmique funk et Afro baile funk. Passionné de musique, il est fortement influencé par des artistes tels que Kaytranada, J.Robb, Kendrick Lamar et de musique africaine. Alors laissez-vous entraîner par ce sorcier du beat, car c'est bien le seul moment où TshiTshi vaut mieux que la mort.
Instagram: @tshitshi
Soundcloud: https://soundcloud.com/sndcestlascience
Swimallnight (SND)
Swim est une jeune dj afro-lausannoise partageant un univers musical varié et alternatif. Un style très proche de celui des dj soulection.
Instagram: @swimallnight
Soundcloud: https://soundcloud.com/sndcestlascience