Happ­sy New Year – Psy­trance Par­ty – by Liquid Dimensions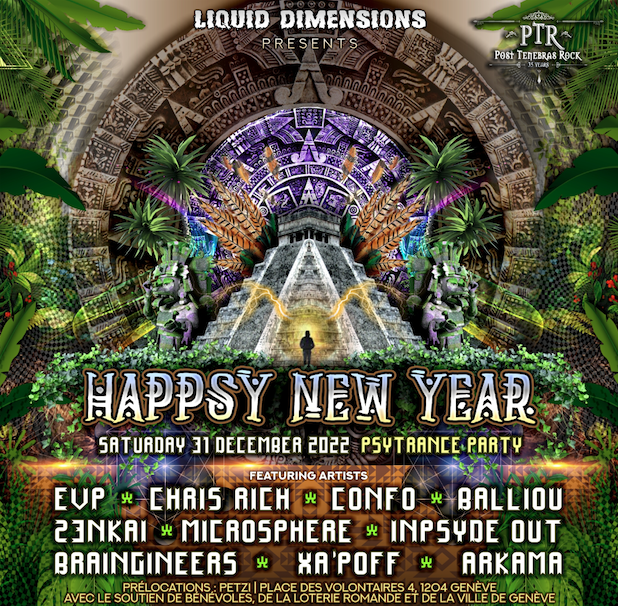 Ouverture des portes
22:00
Billeterie(s)
Attention aux arnaques ! Billets en vente chez nos partenaires uniquement.
Age minimum
Dès 18 ans révolus
Happ­sy New Year – Psy­trance Par­ty – by Liquid Dimensions
-------------
Français
-------------
Liquid Dimensions est de retour pour son plus gros événement, Happsy New Year (Nouvel An.) Comme d'habitude, on vous donne rendez-vous à Post Tenebras Rock pour une soirée de folie et pour fêter comme il se doit cette nouvelle année. La crème de la crème sera présente sur un Line Up international, du L-Accosutics en Line Array et une fermeture à 8h00. La déco sera assurée par Liquid Dimensions qui nous prépare un thème "Aztec Temple" inédit pour le plaisir de votre rétine. 750 places sont disponibles en préventes, pensez à réserver vos billets.
Line Up :
EVP (UK) WILDTHING RECORDS
CONFO (GRE) PARVATI RECORDS
CHRIS RICH (UK) BOM SHANKA MUSIC
BALLIOU (GRE) HARMONIA RECORDS
MICROSPHERE (FR) DIGITAL SHAMANS RECORDS
INPSYDE OUT (GER) DIGITAL SHAMANS RECORDS
Z3NKAI (CH) DIGITAL SHAMANS RECORDS
BRAINGINEERS (CH) BOM SHANKA MUSIC
XA'POFF (CH) 2T06 RECORDS
ARKAMA (CH) INDEPENDANT
DECOS : LIQUID DIMENSIONS (DECO UNIQUE SUR LE THÈME "AZTEC TEMPLE")
-------------
English
-------------
Liquid dimensions is back for its biggest event, Happsy New Year (New Year). As usual, we invite you to Post Tenebras Rock for a crazy evening and to celebrate this new year as it should be. "La crème de la crème" will be present on an international Line Up, L-Accosutics in line array and closing at 8:00 am. The decoration will be provided by Liquid Dimensions which is preparing a new "Aztec Temple" theme just for the pleasure of your retina. 750 places are available in presales, remember to book your tickets.
Line Up :
EVP (UK) WILDTHING RECORDS
CONFO (GRE) PARVATI RECORDS
CHRIS RICH (UK) BOM SHANKA MUSIC
BALLIOU (GRE) HARMONIA RECORDS
MICROSPHERE (FR) DIGITAL SHAMANS RECORDS
INPSYDE OUT (GER) DIGITAL SHAMANS RECORDS
Z3NKAI (CH) DIGITAL SHAMANS RECORDS
BRAINGINEERS (CH) BOM SHANKA MUSIC
XA'POFF (CH) 2T06 RECORDS
ARKAMA (CH) INDEPENDANT
DECOS : LIQUID DIMENSIONS ( "AZTEC TEMPLE" THEME)