Hypno5e
Métal cinématographique
FR
Herod
Metal progressive Sludge
CH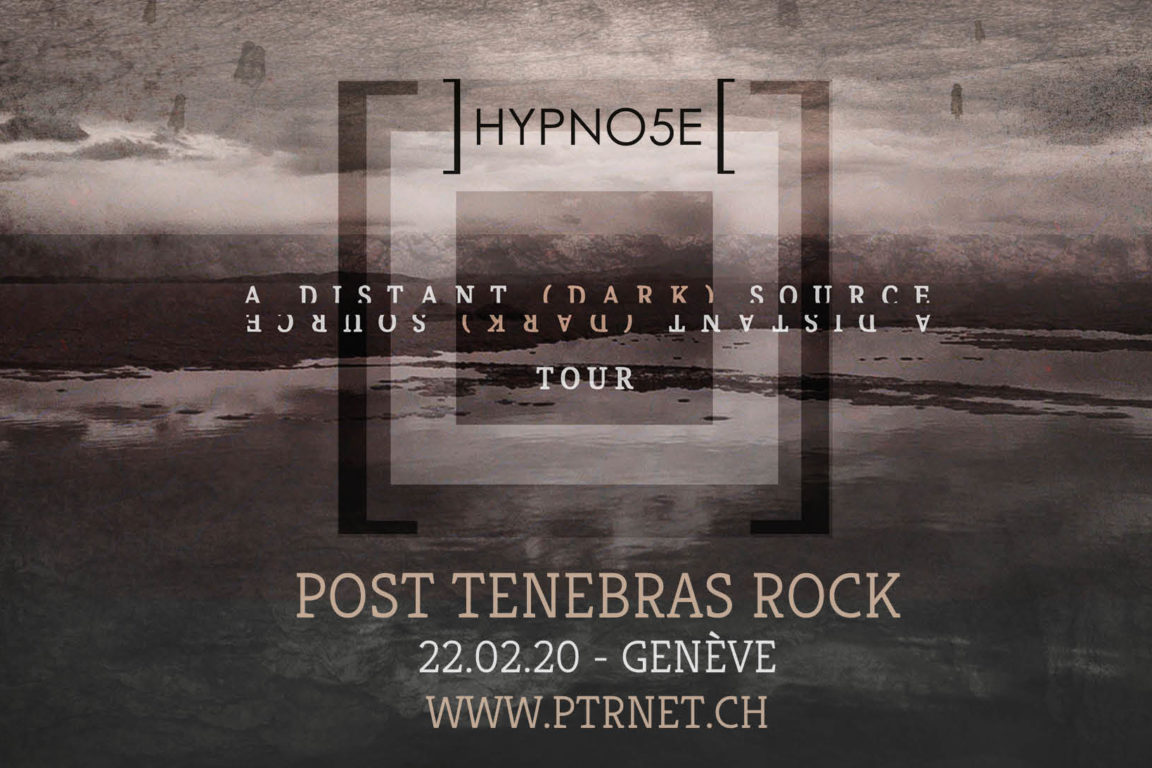 Ouverture des portes
20:00
Carte 20ans/20francs
28.-
Entrée prélocations:
28.-
▶ Hypno5e / métal cinématographique [FR]
—
→ Hypno5e
www.hypno5e.com
▪ Instagram : bit.ly/2oslFqN
▪ Facebook : Hypno5e
▪ Youtube : bit.ly/3373Igi
Hypno5e, pionniers du métal cinématographique, sont de retour avec leur 5ème album, A DISTANT (DARK) SOURCE. Cet opus explore en profondeur l'environnement imaginaire et philosophique, que les quatre premiers albums du groupe avaient progressivement révélé. Prenant place dans un no man's land délabré, où la mémoire et l'imagination se rencontrent, avec pour raison d'exister la quête des fondations de l'inconnu et de l'inimaginé. A DISTANT (DARK) SOURCE, composé et écrit par Emmanuel Jessua, est la deuxième partie d'un diptyque, dont le centre de l'histoire est la recherche imaginaire de cette source fantomatique, qui abrite les âmes perdues dans ce lieu hostile. Comme pour chaque album d'Hypno5e, c'est un voyage intérieur à destination des fantômes du passé. Voyage qui avait commencé avec DES DEUX L'UNE EST L'AUTRE, et dont les étapes furent marquées par chaque album, jusqu'à El Alba. A DISTANT (DARK) SOURCE est la continuité de ce cheminement, encore plus violent, cru, aride, mais aussi poétique et lyrique. Depuis ACID MIST TOMORROW, leur deuxième album sorti en 2012, jusqu'à SHORES OF THE ABSTRACT LINE en 2016, et maintenant avec A DISTANT (DARK) SOURCE, le groupe à tourné intensivement à travers le globe. Plus de 400 concerts, en compagnie de groupes comme Gojira, Dillinger Escape Plan, Meshuggah, et des apparitions dans les festivals internationaux, comme le HellFest, le Brutal Assault, l'Euroblast, le Force Fest, ou encore le Motocultor.
→ Herod
www.herodnoise.com/
▪ Instagram : bit.ly/2PtwTXj
▪ Facebook : Herod
▪ Youtube : bit.ly/34g3ROU
Herode est issu de la scène musicale suisse. Depuis leurs débuts, ils ont partagé la scène avec des artistes tels que Gojira, Crowbar, The Ocean, Carcass, Obituary, Napalm Death et Voivod. En 2014, sort leur premier album "They were None" via le label Mighty Music, s'en suit une tournée européenne. Après le départ du chanteur David, (ancien chanteur de The Ocean) Mike Pilat, prends le relai pour l'album «Sombre Dessein». Mike Pilat, également guitariste, a apporté à cet ensemble sa touche musicale qui rajoute de la lourdeur au niveau musical. HEROD c'est un univers musical et visuel fort. Ils traitent de sujets sensibles comme la consommation et l'enfer au quotidien que vivent ces personnes qui risquent leur vie pour nourrir leur famille explique Pierre Carroz, guitariste. Le dernier album « Sombre Dessein » est sorti en février 2019 via Pelagic Records.
—
[ℹ] Infos :
▶ Ouverture des portes : 20h
▶ Tarifs :
Prélocations : 28.-
Membres PTR : 18.- [ Deviens Membre -> bit.ly/2HanBuv ]
20ans20francs : 28.-
Sur place : 32.-
▶ Billets :
Petzi : bit.ly/2IueQfl
Starticket : bit.ly/362ov6T
Fnac : bit.ly/2MgWtgi
❌ ATTENTION AUX ARNAQUES ! BILLETS EN VENTE CHEZ NOS PARTENAIRES UNIQUEMENT
▶ Informations générales :
La salle se situe au rez du bâtiment de l'Usine (côté quai)
Espace non-fumeur et sans drogue
Cette salle est un lieu safe pour tout le monde, aucune forme
de discrimination ne sera tolérée
Cartes bancaires acceptées
Euros acceptés (uniquement les billets)