No Fun At All x Satanic Surfers x Belvedere
punk-rock
No Fun At All
punk-rock
SE
Satanic Surfers
punk-rock
SE
Belvedere
punk-rock
CA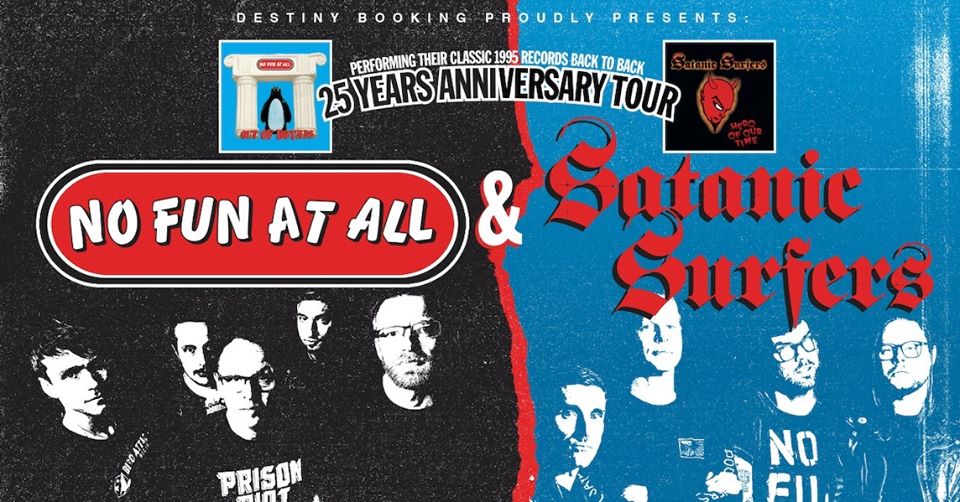 Ouverture des portes
20:00
Entrée prélocations:
36.-
* 25 Years Anniversary Tour *
▶ No Fun At All / punk-rock [SE]
▶ Satanic Surfers punk-rock [SE]
▶ Belvedere Band punk-rock [CA]
—
→ No Fun At All
▪ Facebook : No Fun At All
▪ Instagram : bit.ly/339rE2i
▪ Youtube : bit.ly/34btMYz
Formé en 1991 le groupe Suédois No Fun At All s'est rapidement imposé dans le hardcore punk mélodique avec un premier EP Vision (1993) et l'album No Straight Angels (1994). Ils ont créé leur propre musique et se sont imposés avec Millencolin et Satanic Surfers comme l'un des plus grands groupes suédois de la scène skatepunk des années 90. Avec leur album Grit sorti en 2018 le groupe No Fun At All le groupe n'a pas perdu de sa superbe et se montre plus en forme que jamais.
→ Satanic Surfers
▪ Facebook : Satanic Surfers
▪ Instagram : bit.ly/2QIo508
▪ Youtube : bit.ly/2qE2Q53
Satanic Surfers – le groupe qui a oublié son propre 30e anniversaire. Nous n'avons même pas pris la peine de demander à un véritable rédacteur pour cette biographie. Nous sommes juste des satanistes et des nihilistes. Depuis notre retour avec l'album «Back from Hell» en avril 2018 (exactement la même date que «Grit», vraiment, les gars?). On est nuls pour les anniversaire, mais quand on nous dit que 2020 marque les 25 ans (soit un quart de siècle!) depuis la sortie de "Hero of our Time" Voyons si on est capable de fêter ça ! On se retrouve dans la fosse !
→ Belvedere Belvedere Band
▪ Facebook : Satanic Surfers
▪ Youtube : bit.ly/2saDBYH
Le groupe est formé au cours de l'année 1995 au Canada en tant que groupe de punk rock mélodique. Le groupe reste principalement connu pour avoir allié dans leurs compositions une musique rapide et mélodique a des chants relativement mélodieux. Comme pour de nombreux groupes de musique punk, Belvedere ne possède pas qu'un seul chanteur, mais plusieurs (trois, soit deux guitaristes et un bassiste). Belvedere se sépare à la fin 2005. En 2007, Steve et Graham formeront le groupe This Is a Standoff. Après sept ans sans aucun spectacles, Belvedere refait surface en 2012 pour une tournée de spectacles exclusifs au Canada, en Amérique du Sud et en Europe. En février 2013, le groupe annonce des dates européennes pour août1. La première date se fera au festival Resurrection en Espagne1. En avril 2013, Belevedere publie la compilation numérique All of It qui comprend notamment d'anciennes démos (Milk the Cow, et Red Tape) issue de l'album Fast Forward Eats the Tape (2004)2. La compilation comprend pas moins de 65 chansons2. En 2014, Belvedere publie le clip de la chanson Three's a Crowd3.
[ℹ] Infos :
▶ Ouverture des portes : 20h
▶ Tarifs :
Prélocations : 36.-
Membres PTR : 26.- [ Deviens Membre -> bit.ly/2HanBuv ]
Carte 20ans20francs : 36.-
Sur place : 40.-
▶ Billets :
Petzi : bit.ly/2qR8tgl
Starticket :
Fnac :
❌ ATTENTION AUX ARNAQUES ! BILLETS EN VENTE CHEZ NOS PARTENAIRES UNIQUEMENT
▶ Infos générales :
– La salle se situe au rez du bâtiment de l'Usine (côté quai)
– Place des Volontaires 4, 1204 Genève
– Cette salle est un lieu safe pour tout le monde, aucune
forme de discrimination ne sera tolérée
– Entrée non-accompagnée dès 16 ans
– Espace non-fumeur et sans drogue
– Tout objet composé de verre et armes seront gardés à
l'entrée et vous sera remis à votre sortie
– Cartes bancaires acceptées
– Euros acceptés (uniquement les billets)
– Vestiaire surveillé dès 2.-
▶ Transports :
TPG
Arrêt Palladium : 1 / 14 / 15 / NC / NJ
Arrêt Stand : 1 / 14 / 15 / NA / NC / NJ / NK / NM
Arrêt Bel-Air : 2 / 3 / 5 / 7 / 10 / 12 / 14 / 18 / 19 / 20 / 36 / NA /
NC / NE / NJ / NK / NO / NP / NT / NV
PARKING
Parking Hôtel des Finances (à 200m)
Parking couvert Seujet (à 200m)
Parking des Gazomètres (à 700m)
⚠ Alcool et conduite = 1ère cause de mortalité sur les routes. Boire ou conduire, il faut choisir ! ⚠
TAXI
022 33 141 33
022 3 202 202