Suffocation
Extreme Metal
US
Belphegor
Black Metal
AT
God Dethroned
Death Metal
NL
Nordjevel
Black Metal
NO
Darkrise
Death Metal
CH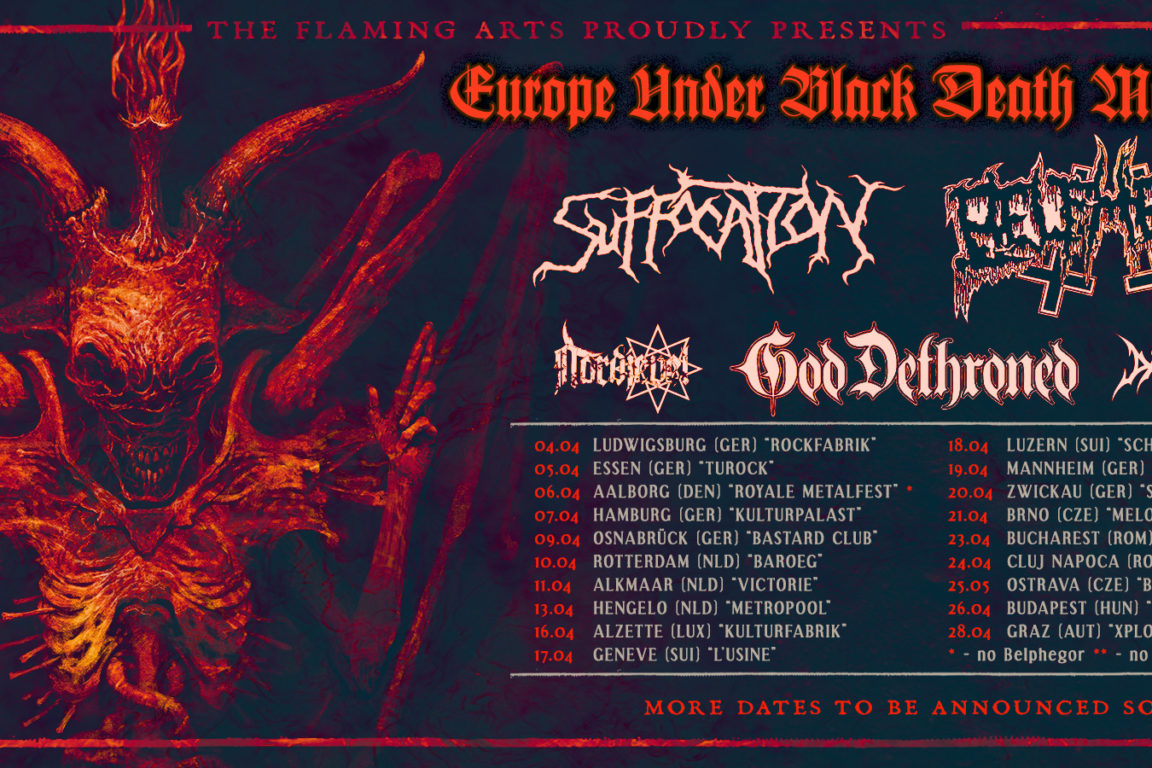 Ouverture des portes
19:00
Entrée prélocations:
28.-
Suffocation(US) – Extreme Metal
+ Belphegor (AT) – Black Metal
+ God Dethroned (NL) – Death Metal
+ Nordjevel (NO) – Black Metal
+ DarkRise (CH) – Death Metal
Vous reprendrez bien un peu de Brutal Death? Et quoi de mieux pour ça que de se tourner vers les spécialistes et fondateurs du genre, Suffocation ! Formé en 88 à New-York, la formation fait partie des précurseurs de ce style, étant même parfois mentionnée comme étant les créateurs de cette mouvance, principalement grâce à leur frontman, Frank Muller, qui popularisa l'utilisation du Growl, maintenant indissociable de la scène Brutal Death. Très influencés par le Death Metal et par des groupes comme Sepultura ou encore Napalm Death, ils sortirent depuis leur formation pas moins de 7 albums studio, dont l'excellent « Effigy Of The Forgotten » en 91, qui deviendra par la suite une des références en terme de Metal extrême.
Pour les accompagner :
BELPHEGOR considéré comme l'un des groupes les plus extrêmes de la scène Black Death. Les membres du groupe eux-mêmes décrivent leur style en tant que « Supreme Death Black Metal » Art ».
Pour accompagner ces 2 groupes phares de la scène métal, c'est pas moins de 3 autres groupes qui seront de la partie : God Dethroned, Nordjevel et Darkrise
Avril sera brutal à PTR
Billets :
Petzi : https://goo.gl/MJR1tV
Starticket : https://goo.gl/zCW8tL
Sur place 32.- / Prélocation : 28.- / Membres PTR : 18.-